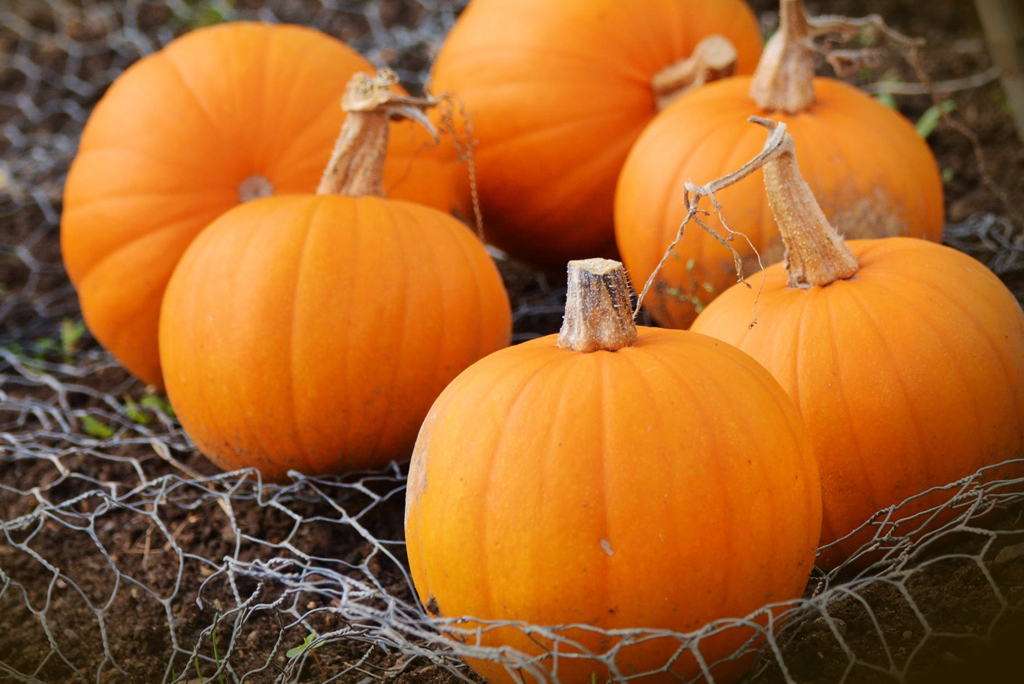 12 Oct

Pumpkin Power. 5 Health Benefits + Recipe Roundup

As Fall rolls in, so do the pumpkins. I bet the first thing you think of is carving pumpkins for Halloween, which I agree is very fun but there's more to these giant orange squashes than just their appearance. Pumpkins are packed with nutrients and health benefits. So instead of throwing out the insides this Fall, bake something yummy so that everyone can enjoy the health benefits of this not so scary vegetable.

Pumpkins are nutrient dense, meaning they are packed with vitamins and minerals. Pumpkins are known to be great for eye health, heart health, blood pressure, weight loss and the immune system. Plus those who are not trick or treating this October, due to watching their weight, will be happy to know that pumpkins are a very low calorie food. So you can go trick or treating just make sure you ask for a pumpkin in your sack rather than candy
Let's take a look at the top 5 health benefits of the pumpkin:
1. Eye Health
Pumpkin's bright orange color comes from the fact that it is packed with beta-carotene, which is also known as vitamin A. Vitamin A is essential for good vision especially in low lights. One cup of Vitamin A contains double the recommended daily intake of Vitamin A. Vitamin A is also said to slow the deterioration of the retina. Pumpkins also contain two importance antioxidants called Lutein and Zeaxanthin, which are thought to prevent cataract disease and slow the advancement of macular degeneration.
2. Heart Health
One cup of pumpkin contains 3g of fiber. A healthy intake of fiber is proven to protect the heart from a number of diseases. Studies conducted by Harvard and Swedish researchers have proven that those who eat fiber have a significantly lower risk of developing heart disease. Pumpkin is also high in magnesium, which reduces blood pressure and therefore prevents the possibility of hearts attacks or strokes. The heart health benefits increase even more when pumpkin seeds are consumed. The seeds are omega 3 rich, help people to sleep and are an anti-inflammatory.
3. Reduced Blood Pressure
As you now know, eating pumpkin is good for the heart. The fiber, potassium, vitamin A, vitamin C all support the heart and the blood pressure system. Potassium is very important for those with high blood pressure. So by eating pumpkin you can easily reduce your blood pressure to a healthy level. Increased potassium also reduces the risk of stroke, lose of muscle, bone density and kidney stones. So for the elderly it is very important to eat potassium rich foods.
4. Weight Loss
Pumpkin is very high in fiber, which is great for the digestive system. It supports a healthy bowel and can keep you regular. Pumpkin is also nutrient rich but calorie poor so it keeps you feeling fuller for longer. There is only about 50 calories per serving, which is about 1 cup. Pumpkin seeds are also a food that keeps you feeling fuller for longer. So add some pumpkin to your lunch or dinner and this will help you to stop snacking or reaching for dessert.
5. Boost Your Immune System
Pumpkin is packed with vitamins, minerals, enzymes and antioxidants which all support the immune system. A cup of pumpkin is like a natural multi-vitamin. The nutrients in pumpkin will boost your immune system and the health of multiple organs.
So instead of throwing away the insides of your pumpkins this Fall cook up a storm for the family. Why not try this delicious dairy free Pumpkin Bread Pudding or any of the other amazing recipes I've linked to below!
Pumpkin Recipe Round-Up
Pumpkin Bread Pudding
Serves: 6
Ingredients:
10 slices wholegrain wheat bread
2 cups unsweetened almond milk
1 tbsp ground cinnamon
1/4 – 1/2 cup brown sugar
2 tablespoons organic maple syrup
1 teaspoon vanilla
1.5 cup pumpkin puree
1/2 cup raisins
Directions:
1. Pre-heat oven to 350F
2. Cut the bread into squares and then spread on baking trap. Toast for 8 minutes in oven.
3. Mix together almond milk, raisins, brown sugar, maple syrup, vanilla, cinnamon, and pumpkin puree in mixing bowl. Mix well until combined.
4. Then add cubed whole wheat bread and gently mix until bread cubes are covered with mixture.
5. Let sit for 15 minutes so that the bread soaks in the mixture.
6. Then pour mixture into a baking pan and bake for 40 minutes or until brown on top
7. Serve!
6 more amazing pumpkin recipes:
1.
Halloween Brownie Cake with Pumpkin Swirl
from Clean Cuisine and More 2.
Pumpkin and Sage Deviled Eggs
from Clean Cuisine and More
3.
Healthy Gluten-Free Pumpkin Pie
from The Coconut Mama
4.
Coconut Flour (another gluten free recipe!) Pumpkin Muffins
from The Coconut Mama
5.
Amazing Pumpkin Smoothie
from Mama Natural
6.
Pumpkin Cream Cheese Bars
from Chocolate Covered Kate