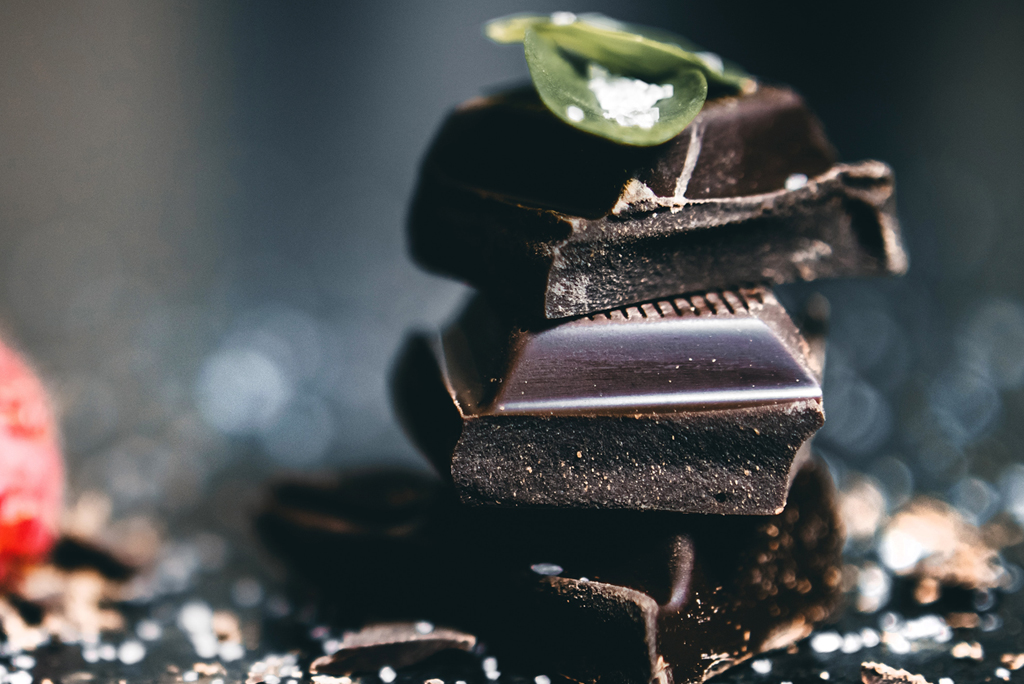 09 Feb

Benefits of Dark Chocolate – Plus A Healthy Recipe
Grab Some Dark Chocolate and Celebrate These 5 Awesome Benefits.
Chocolate is simply heavenly. Almost all women love chocolate. Dark chocolate is my go-to "guilty pleasure."
Right form our childhood we learned to love it. Back then no one cared about its health benefits, we simply enjoyed it. However as we started growing up, we became more aware of the dark side of chocolate – dark chocolate that is. Dark chocolate is one of the most nutritious and healthy types of chocolate on the market. It is delicious and comes with many health benefits that will blow your mind!
1. High Nutritional Value
Unlike its counterparts, dark chocolate is loaded with more cocoa. This gives 11% of fiber for every 100 grams of chocolate you consume. We all know the health benefits of fiber and its role in keeping a healthy digestive system and so on. It is also rich in minerals such as magnesium, iron, copper, potassium and manganese, which play a huge role in metabolic function and wellbeing. It also comes packed with very useful fatty acids that are awesome for the skin, hair and brain function. If you consume dark chocolate in moderation, you need not worry about putting on weight – just enjoy these nutritional benefits.
2. Lowers Blood Pressure
The flavanols in dark chocolate facilitate the production of nitric oxide in the body. This gas helps in relaxing the arteries and improves the flow of blood to every part of the body. This has a positive impact on performance and can significantly boost your energy levels. Slow blood flow is one of the major causes of exhaustion. Get rid of this with a few bites of dark chocolate and enjoy a better, sweeter life.
3. Antioxidants
Dark chocolate has many organic compounds that act as very powerful antioxidants. Dark chocolate's antioxidants are more powerful than our sources of antioxidants. If you thought that chocolate is a "naughty dessert," then think again. By achieving proper antioxidant levels in the body, you will achieve greater wellness and reduce the chances of developing diseases. A couple of squares of dark chocolate are enough to provide your body with almost all the antioxidant it needs to function as expected.
4. Reduces Risk of Heart Disease
The compounds in dark chocolate help in reducing cholesterol and preventing it from clogging your arteries. Studies have shown that cocoa, which is the main compound in dark chocolate, has been able to reduce cholesterol levels by about 30% in less than two weeks, when eaten at least twice a week. This proves that by eating dark chocolate frequently, you can in fact reduce the risk of heart and other related diseases by a huge margin and as we know today, heart disease is one of the highest causes of deaths all over the world.
5. Improves Brain Function
Yes. This is actually true and has been proven by many studies from all over the world. Cocoa is one of the best organic stimulants. It not only stimulates your brain but also helps you focused for longer. This is achieved through improved blood flow to the brain that is partly a result of relaxed and better functioning arteries. So instead of over drinking coffee, why not try to substitute your brain with some healthy dark chocolate? It is healthier and is less likely to give you the jitters and problems that come with taking caffeinated beverages.
These are just but a few of the health benefits that you can gain from eating dark chocolate. You may think that it is not worth it, since dark chocolate still contains sugar like in milky chocolate. But think of what you are gaining from it and the best part is that you may not have to hit the gym every time you have some! It will actually help you get the very best out of your regular workout schedules by releasing antioxidants that make your metabolism and fat burning processes more efficient.
Chocolate Minty Mousse Recipe
Serves 2
Ingredients:
1 large sweet, ripe banana
1 medium avocado
1/4 cup cocoa powder
2 Tablespoons honey
pinch of sea salt optional
1 teaspoon of peppermint or mint extract
if the mousse is too thick, add a bit of coconut, almond or your favorite milk to smooth out the recipe.
Instructions:
Put all ingredients in a food processor, or blender and blend. Transfer to two dessert bowls and top with mint garnish. For a simple, rich chocolate mousse, omit the mint. Enjoy!