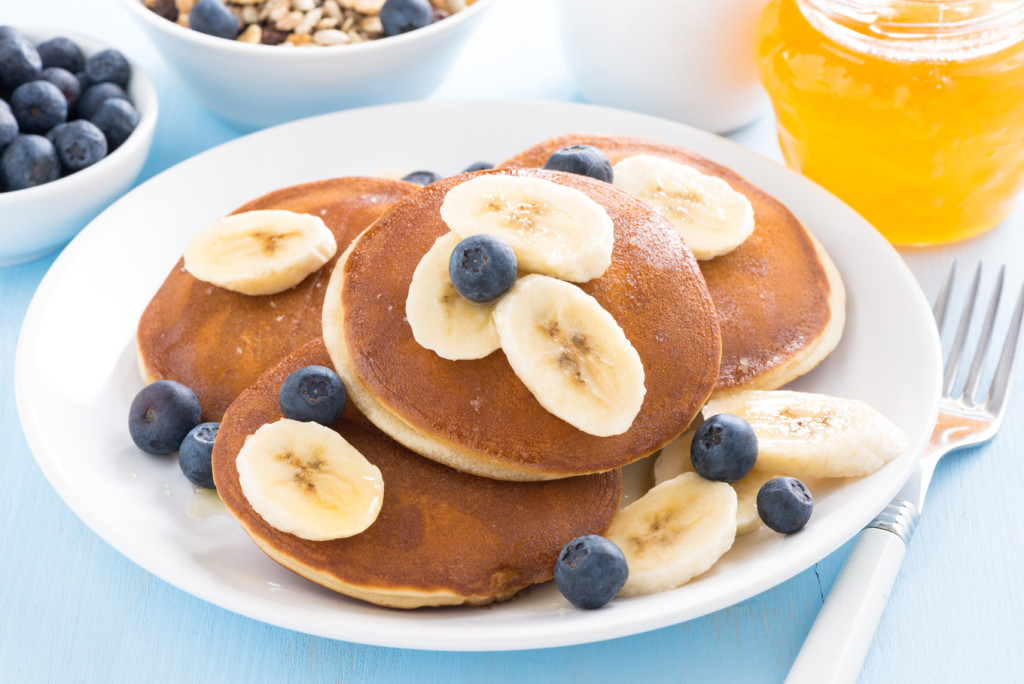 26 Feb

RECIPE: Gluten Free Spicy Banana Pancakes

Anyone who knows me, knows I'm not a fan of low-carb diets. Carbs are crucial for metabolic function and give us energy. However,

everyone is different

. You might need to experiment to discover your perfect carbohydrate balance in terms of the type of carbs and the amount of carbs for your unique physiology. There is no standard portion size that works for all people.

Your carbohydrate needs will depend on a few things…
activity level
goals
genetics
type of carb
blood sugar sensitivity
Now, let's get to this yummy recipe. I've added some spices to give it an extra kick!
Gluten Free Spicy Banana Pancakes
Serves 4
Ingredients:
2 Tbs coconut oil, melted
3 small or 2 large ripe bananas – the riper the better!
2 eggs, beaten
2 tsp vanilla extract
2 Tbs orange juice
1 tsp cinnamon
1/4 tsp nutmeg
1/4 tsp powdered ginger
pinch of salt
1 cup gluten free oat flour*
1/2 tsp baking soda
Instructions:
1. Mash the bananas in a large bowl and the coconut oil, vanilla, eggs and orange juice. Mix well. In a separate, smaller bowl, combine the dry ingredients and mix well. Slowly add the dry ingredients to the wet mixture and stir as you go until smooth and completely combined. Set aside.
2. While waiting, heat a skillet with a bit of coconut oil or oil spray. Once the skillet is hot, drop about 1/4 cup batter per pancake onto the skillet at a time. Cook for about four minutes on each side or until golden.
3. Repeat until complete and dish up. Top with bananas and blueberries and a wee bit of honey if you like.
4. Can be kept in the fridge for 4 days.
*How to make oat flour from scratch: Place about 1 1/4 cup old fashioned rolled-oats into a food processor of heavy duty blender (like a vitamix) and pulse until the oats become flour. Easy peasy!